Miller Joinery and Shopfitting has a dedicated workshop with three joiners, one apprentices and state of the art machinery. Making custom made desks, bespoke reception counters, bookcases, seating for bars and restaurants etc. We can also turn our joinery skills to hardwood doors, door frames, wood windows and sash windows.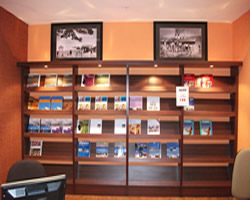 Joinery allows Miller Joinery & Shopfitting to be very flexible creating custom made seating, giving your bars or restaurant a unique look and feel. To lounge bars, hotels and reception areas etc there is no limit to where Miller Joinery & Shopfitting will work.
Office refurbishment for any size premises. Restaurants and bar make overs. Our Joinery makes use of hardwoods such as ash, oak, meranti, teak, and any other wood you may request.