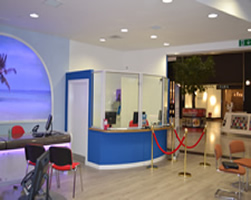 Shop Fitting for restaurants, bars, hotels, stores, reception areas etc. Maximise the space at hand with properly thought out and designed shop fitting.
Beautifully designed and great use of space to give your customer an excellent shopping experience. Shop fitting for restaurants can include bespoke bar areas with mood lighting. For hotel shop fitting Miller Joinery and Shopfitting will design custom built reception desks giving your hotel a unique feel and look.
An example of great shop fitting can be found at many Barrhead Travel as Miller Joinery and Shopfitting has a ongoing contract with them proving beautifully crafted desks and custom doors.